Q10075 DB37 connector - Female
I have an accessory board with a female DB37 connector for outputs. How should I connect to it?
Female (receptable, socket) DB37 connectors are used primarily for analog outputs on our output expansion boards. They are subminiature D connectors with 37 receptacles in two rows. They mate with male (plug) DB37 connectors on connecting cables.
Related Products and Pinout
MSXB075/MSXB076 - Isolated Analog Output Module
A female DB37 connector is used in the following models, where x and y denote version release and package form, respectively:
MSXB075-x-y3K-F - 4 analog outputs
MSXB076-x-y3K-F - 8 analog outputs
It is possible to route the analog outputs from a MSXB075 or MSXB076 directly into every other channel of a MSXB084 or MSXB085 by using a gender changer.
Figures 1a and 1b show the pinout when connecting to the female DB37 connector on the MSXB075 and MSXB076, with the corresponding connections on the male DB37 connector on the cable. For the MSXB075, the signal and ground pins for DACOUT5 through DACOUT8 are not connected .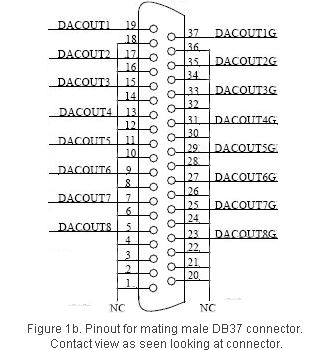 ---
Mating Hardware
The female DB37 connector used has part number AMP 5747847-4. It mates with the following parts from AMP / Tyco Electronics:
DB37 male connector body and shell - 5747958-1
Male crimp pins for 20-24 AWG wires - 1-66506-0
The following product from Microstar mates with the female DB37 connector:
MSCBL092-02K - cable kit consisting of a male connector body, shell for strain relief, and pins for all contacts
L
Male DB37 connector on expansion boards
Note: Information on this page was collected from multiple sources. If you have any concerns about the accuracy of the information provided here, check the hardware manuals for your specific products. Those manuals are the authoritative sources.