Q10076 68-line pin-and-socket I/O connector
I have a board with a 68-line pin-and-socket connector for analog I/O. How should I connect to it?
Female (receptable, socket) 68-line pin-and-socket type connectors are used for analog I/O on the xDAP. They are D-shaped connectors with a double row of sockets on 0.050-inch centers. They mate with male (plug) 68-line connectors on connecting cables. A picture of the pin-and-socket connector is shown below: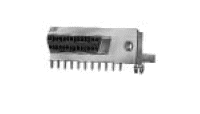 Related Products and Pinout
xDAP - USB Data Acquisition Processor System
A female 68-line connector, compatible with SCSI 3, is used on the following models of xDAP:
xDAP7400 - 16 differential inputs
The 68-line connector on the xDAP is different from that on the PCI DAP and analog expansion boards. Figures 1a and 1b show the pinout when connecting to the 68-line connector on the xDAP7400, with the corresponding connections on the male connector on the cable.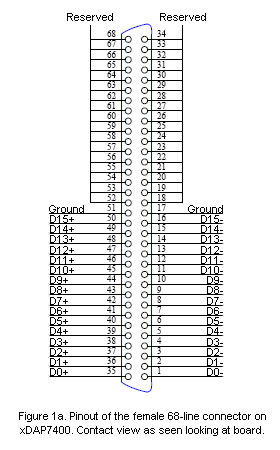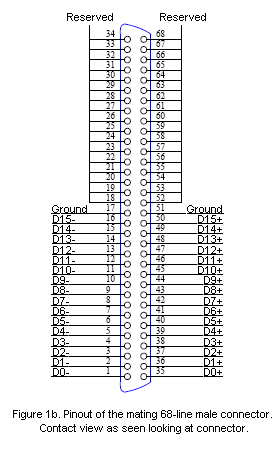 ---
Mating Hardware
The 68-line female connector on the xDAP is Tyco Electronic part number 5787170-7 or equivalent. It mates with both parts below from Tyco Electronics:
Shielded discrete wire connector - 1-5750913-7
Insulation displacement ribbon cable connector - 5786090-7
The following product from Microstar mates with the female connector:
MSCBL125-01-L70 - 68-line round shielded cable, 70 inches
L
Note: Information on this page was collected from multiple sources. If you have any concerns about the accuracy of the information provided here, check the hardware manuals for your specific products. Those manuals are the authoritative sources.