xDAP 7420 Data Acquisition System, up to 2M Samples per Second per Channel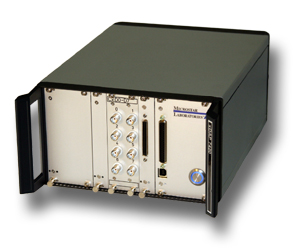 Use the xDAP 7420 in your projects that require high sampling speeds, without sacrificing data quality. With an extended acquisition rate of two million samples per second per channel, xDAP 7420 doubles the rate supported by the existing xDAP 7410. And continues to support the eight million samples per second sustained transfers to an application on a PC-workstation or laptop host. xDAP 7420 provides high-rate, high-quality multi-channel data capture for PC-based data acquisition applications.
Analog Inputs: Isolated – Simultaneous – Fast: MSXB 080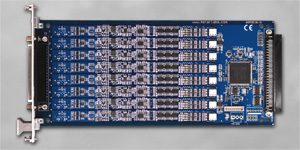 The MSXB 080 signal interface (SI) module offers you differential inputs, channel-to-channel isolation, channel-selectable gains, simultaneous sampling, and high data rates – all combined in a convenient 3U Eurocard B package.
The eight onboard analog-to-digital converters on the MSXB 080 are synchronized to within a few nanoseconds of each other, and each one converts an analog signal to a 16-bit data stream at up to 250k samples/second for a total throughput of two million samples per second.