Simple packaging for protected environments and test benches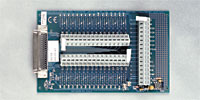 In a protected environment or test benches, where you have just a few signals and no exposure to interfering noise sources, but you need flexibility for quickly changing configurations, you may choose to use low density packaging, or even a stand-alone board rather than an instrumentation rack.
Eurocard termination and accessory boards can be used stand-alone. For protection, you should mount them by their corners on nylon standoffs, above a static-protected work surface. You can order board models with Wago quick-disconnect terminations.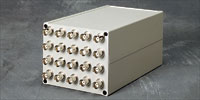 A bare board will have unprotected signal wires, vulnerable to noise pick-up. If you have power frequencies, floating grounds, EMI, or various other forms of noise, you can obtain the same kind of signal protection you would have with an industrial rack, only on a very small scale and with less metal, by using a single-board enclosure with shielded connector panel. The illustration shows a termination board similar to the bare board above, but mounted in an enclosure with BNC terminals for connection points. The reverse side has a shielded cable connector for the cable going directly to the Data Acquisition Processor in your desktop PC host.
Browse the Termination and Expansion Boards and look for the Single-Board Enclosure option and the Eurocard you need. All available options are not listed on this Web site, so contact us for additional information.