Keep it simple ...with standard packaging
All expansion hardware packages fit in 19-inch industrial racks. The hardware design follows a consistent channel architecture: signal connectors on 3U Eurocards; backplane connectors on every Eurocard; backplanes in all rack-mountable enclosures – and each of these fits in a standard 19-inch industrial rack.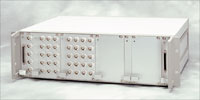 consistent architecture
simple hardware design
compact Eurocards
standard packaging
Each Eurocard has signal connectors at one end and a backplane connector at the other. Each Eurocard mounts in a vertical slot, side-by-side with up to 19 others, in a backplane-equipped industrial enclosure with handles and mounting hardware for 19-inch industrial racks. Each enclosure contains a factory-installed interface board that connects to a DAP board in a PC – or that connects to other industrial enclosures in a daisy chain.