When you need voltage inputs
Each sensor interface requires its own signal conditioning. Signal Conditioning products include the following.
Signal Conditioning Expansion for Voltage Inputs
MSXB 064
Signal Conditioning Expansion for Voltage Inputs – with Filtering
MSXB 065
Signal Conditioning Expansion for Resistive Sensors
MSXB 066
Signal Conditioning Expansion for Resistive Sensors – with Filtering
MSXB 067
View Photo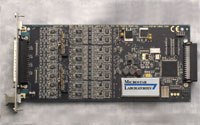 Compatible with
Additional
The MSXB 064 Signal Conditioning Expansion Board provides analog signal conditioning for voltage signals for Data Acquisition Processor systems. Each board has
differential inputs
jumper-selectable simultaneous sampling
jumper-selectable gains of 1, 5, and 25
Signal Conditioning Expansion Boards are used in multichannel spectral analysis and other applications that require simultaneous acquisition of several channels. MSXB 064 and MSXB 065 usually are used for applications that require interchannel phase measurements such as applications that perform transfer function computations. These boards eliminate the phase error introduced by sequential sampling.
The MSXB 064 Signal Conditioning Expansion Boards each have 8 differential input channels and 8 differential outputs to a DAP board.
The MSXB 064 provides signal conditioning expansion for Analog Backplane systems. The Signal Conditioning Expansion Board is compatible with Microstar Laboratories Industrial Enclosures and the MSXB 030-01 and MSXB 031-01 Analog Backplanes.
Industrial Enclosure Compatible Options
MSXB064-01-E2K: 8 differential analog inputs, DB37 panel
See Also: MSXB 065 for Filtered Voltage Inputs and MSXB 061 Differential Analog Input Expansion Board