Anti-Alias Filtering: Remove aliases from your results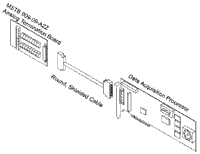 Sample System
Include one of these signal interface boards to add filtering – and other features – to your data acquisition hardware system.
Digitizing a signal destroys all evidence of any frequencies higher than half the sampling rate. Samples of these higher frequencies map exactly into their lower frequency aliases. You cannot detect any one of the higher frequencies in your sampled data. But you do detect each alias. And this corrupts your results.
A suitable analog filter, placed between a sensor and any analog-to-digital converter, effectively takes out unwanted higher frequencies.
MSXB 048: Filtered Analog Input Expansion Boards
MSXB 065: Signal Conditioning and Filtering Expansion Boards for Voltage Inputs
MSXB 067: Signal Conditioning and Filtering Expansion Boards for Resistive Sensors
See also the iDSC 1816, a specialized Data Acquisition Processor board that acquires signals through built-in analog and DSP anti-aliasing filters.
Contact us – our engineers will help you specify the parts for your unique application.