When you need more digital I/O
View Photo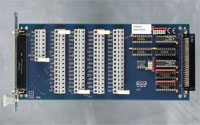 Compatible with
Additional
The MSXB 038 Digital Expansion Board provides 16 digital inputs and 16 digital outputs.
Multiple Digital Expansion Boards can be connected to a single DAP board for a total of 128 digital input lines and 1024 digital output lines. Input expansion is at a maximum with eight MSXB 038 boards (128 points). Output can be expanded to 1024 points by connecting 64 MSXB 038 boards to a single DAP.
There are several cabling options for the MSXB 038 Digital Expansion Boards. MSXB 038 may be connected to a DAP board using various 100-line cabling options or can be installed into a Industrial Enclosure. For the MSXB 038-11-E3P HD-62 connection an MSCBL 109-01K 62-line discrete wire cable kit is used.
Bare Board Options
MSXB038-07-C3Z: Wago terminals
MSXB038-08-C3Z: screw terminals
MSXB038-09-C3Z: Wago terminals, vertical I/O connector
Single-Board Enclosure Options
MSXB038-07-C3B: Wago terminals, enclosed, 100-line termination panel
MSXB038-09-C3C-B: Wago terminals, enclosed, 20 insulated BNC termination panel, vertical I/O connector
MSXB038-09-C3Y: Wago terminals, enclosed, blank termination panel, vertical I/O connector
Industrial Enclosure Compatible Options
MSXB038-07-E3B: Wago terminals, 100-line termination panel
MSXB038-09-E3C-B: Wago terminals, 20 insulated BNC termination panel, vertical I/O connector
MSXB038-09-E3X: Wago terminals, 4-slot blank termination panel, vertical I/O connector
MSXB038-09-E3Y: Wago terminals, 1-slot blank termination panel, vertical I/O connector
MSXB038-11-E3P: Wago terminals, HD-62 connector with LED termination panel