Catalogs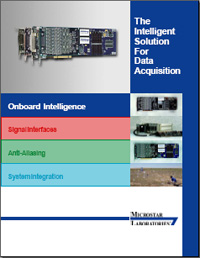 You can find all top-level product information, with some detail, collected into four catalogs:
Onboard Intelligence
Signal Interfaces
Anti-Aliasing
System Integration
Onboard Intelligence Catalog
The Onboard Intelligence catalog acts as the main catalog: it introduces all our products and also summarizes the content of the other catalogs.
We now print and mail only a very limited number of catalogs. If you need one, please call us.
As you would expect, you can find the content, in one form or another, on different pages on this Web site as well. In particular, if you have not already done so, you may want to review the introduction. This contains many useful links to other pages on the site. You also may want to check out the DAP Specifications Overview; you can download this as well, as a PDF file (109 kB).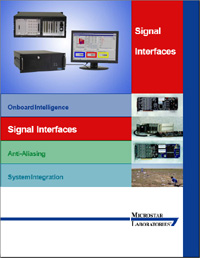 Signal Interfaces Catalog
This catalog covers the information found on our Signal Interface pages.
Let us know if you would like a print version.
Anti-Aliasing Catalog
This catalog gives details of our anti-aliasing solutions. You can download a 216 kB US-format version or a 197 kB A4-format version, both as PDF files. For information about anti-aliasing on our Web site, take a look at the iDSC 1816 board or the MSXB 048 card.
System Integration
Through the Web site, you can learn more about integrated systems and the tools we use to produce them for our customers. Some customers prefer to do some or all of their own system integration. These customers can use the same tools that we use – packaged as DAPtools Basic, DAPtools Standard, and DAPtools Professional. You can download DAPtools Basic to get access to that free software package. The DAPtools Basic package also includes all user manuals available as PDF files.