Free your application from system delays
Onboard intelligence takes care of all low level time-critical details. This lets you focus on what you want: rapid development of a quality application.
onboard processor
onboard OS
no PC/network delays
standard PC software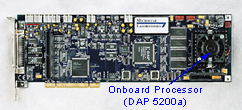 Your application can take advantage of onboard support for high I/O speed, easy expansion, real-time processing, and network access.
Users can work with standard PC software without imposing random delays on your application.