When you need fast, synchronized digital I/O
View Photo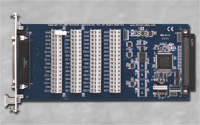 Compatible with
Downloads
The MSXB 078 Isolated Digital Signal Interface Module provides isolated digital expansion for Data Acquisition Processor (DAP) systems. Use these modules to eliminate ground currents – a potential source of noise in your measurement and control signals – and eliminate timing errors from high-channel count digital I/O.
MSXB 078 features simultaneous sampling and simultaneous updating for multiple modules. The module uses the same time base as the DAP board, so the digital inputs of the MSXB 078 are sampled concurrently with the analog inputs of the DAP.
Each MSXB 078 has 16 bits of input and 16 bits of output per module isolated from the PC. Multiple Digital Signal Interface Modules can be connected to a single DAP board for a total of 128 digital input lines and 1008 digital output lines. Input expansion is at a maximum with eight MSXB 078 modules (128 points). Output can be expanded to 1008 points by connecting 63 MSXB 078 modules to a single DAP.
MSXB 078 is installed in an Industrial Enclosure and uses an HD-62 connector. The HD-62 connector provides 62 high-density connections for digital signals. A cable or a 62-line discrete wire cable kit is used for wiring.
Industrial Enclosure compatible model
Model MSXB078-01-E3P: HD-62 connector with LED termination panel
Other panel options are available.
Stand-Alone and Single-Board-Enclosure models
Channel-to-PC Isolation – MSXB078